World Book Night returns to the US
(Read article summary)
After reading celebration World Book Night debuted in America for the first time last year, it will be held again this April.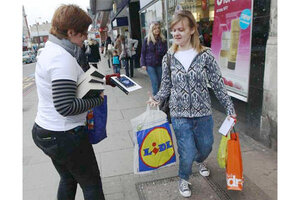 Luke Macgregor/Reuters
World Book Night will be held in America for the second year after kicking off its first US celebration last April.
During the event, volunteers give out certain titles to friends, family, and people they meet on the street when they stand on street corners. The event was founded by UNESCO and started in the UK and Ireland in 2011, coming to America and Germany for the first time in 2012. World Book Night is celebrated on April 23 because the date is also William Shakespeare's birthday. In the four countries combined, more than 2.5 million books were given out by 80,000 volunteers last year. The honorary chairpersons for this year's event are "State of Wonder" author Ann Patchett and writer James Patterson, whose children's book "Middle School: The Worst Years of My Life" will be one of the titles to be distributed.
---