Should books be a part of emergency relief efforts?
(Read article summary)
A petition titled The Urgency of Reading states that reading and writing are 'essential to healing and reconstruction' after disasters, and the document has been signed by more than 100 writers, literary groups and others.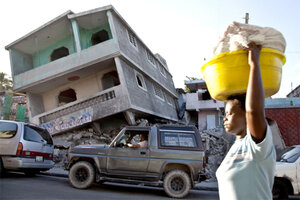 Paul Chiasson/AP
Sure, disaster victims need food, clothing, and shelter during humanitarian emergencies – but books?
That's what a new campaign is fighting for.
Books are "nourishment for the mind" and should be a critical part of emergency relief efforts after disasters like Hurricane Katrina, the Haitian earthquake, or the Indian Ocean tsunami occur, according to a literary-humanitarian campaign circling the globe.
To date, more than 100 writers, intellectuals, literary groups, and public figures including four Nobel laureates and the humanitarian organization Libraries Without Borders have signed The Urgency of Reading petition, which states, "In humanitarian emergencies, reading and writing are essential to healing and reconstruction."
"While there is no question that organizations and governments must devote the majority of their efforts to promoting the physical wellbeing of disaster victims, more attention should be given to nourishing the mind as a second measure to help victims cope with catastrophe and move forward," the petition states.
---