Weird science: 'This Is Improbable' chronicles the world's strange experiments
(Read article summary)
Writer Marc Abrahams discusses some of the world's oddest scientific innovations in his book 'This Is Improbable.'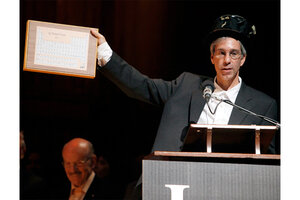 Michael Dwyer/AP
Have you ever wondered about why woodpeckers don't get headaches? Or pondered the multisegmental dynamics of hula-dancing, the courtship behavior of ostriches toward humans, or the reason why discus throwers get dizzy but hammer throwers don't?
Scientists have. In fact, they've wondered about countless strange topics and written countless studies about them.
Marc Abrahams, editor and co-founder of the science humor magazine Annals of Improbable Research, has been tracking bizarre research since 1994.
He's the master of ceremonies at the annual Ig Nobel awards, which honors scientists and others who've launched peculiar research or done peculiar things. Yes, many of the winners come. And yes, they love it.
Recent honorees include the inventor of a bra that transforms into protective face masks, researchers who studied why bedsheets wrinkle, and the US Government General Accountability Office "for issuing a report about reports about reports that recommends the preparation of a report about the report about reports about reports."
Abrahams has compiled some of the world's oddest scientific efforts in his new book "This is Improbable."
I asked Abrahams to describe some of his favorite improbable research, explain its value (if any), and get to the bottom of the pressing issue of the "forces required to drag sheep across various surfaces."

Q: What is improbable research?

A: It makes people laugh and then think. When you first encounter it, there's something so unexpected that it's funny, then a week later you're still thinking about it.

Q: Is this all serious research?

A: When something is called research, it means somebody is trying to understand something nobody has made much sense of.

Q: Do they understand how strange it can look to, say, discover what happens if you give an anti-depressant medication to a clam?

Everybody does things that look pretty strange to people who don't do those things. They forget it will be interesting to other people and maybe funny.

Q: What's an example of scientists not realizing that their project is pretty darned loony?

A: There was a study called "An Analysis of the Forces Required to Drag Sheep across Various Surfaces."
---