Writer David Nasaw discusses the turbulent life of Joseph P. Kennedy
(Read article summary)
From his role as a father to powerful politicians to his job as a movie industry mogul, Nasaw says that 'unlike other outsiders who fight to get inside... once [Kennedy] gets inside, he refuses to play by the rules.'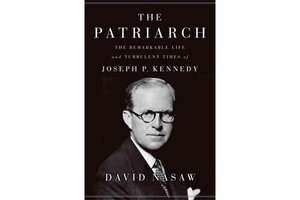 Womanizing family man, powerful but often-misguided political mastermind, movie industry mogul, would-be president, and one of the most influential, brilliant and aggravating Americans who ever lived.
Only two men fit that description. And only one author has written immensely readable biographies of both of them, plus another one of Andrew Carnegie for good measure.
Following on the success of 2000's "The Chief: The Life of William Randolph Hearst," historian David Nasaw has a new bio on the bookshelves with "The Patriarch: The Remarkable Life and Turbulent Times of Joseph P. Kennedy." It's an instant classic, an honest and perceptive look at a man who deserves to be known for more than tragedies and failures.
In an interview, I asked Nasaw about the challenges of writing the book under the eyes of the nation's most storied political clan, the battles that Joseph Kennedy fought, and the ultimate verdict on an extraordinary life.

Q: What drew to you to the story of this man whose children include a president, an attorney general, an ambassador and one of the most storied senators of all time?

The family asked me to do it.
I met with Senator Ted Kennedy to talk it over. We met in the Senate office building, and we had lunch with his two Portuguese water dogs, who came to the Senate on Mondays.
I spent a good long time trying to convince the senator I shouldn't write the book. I'm a crazy obsessive researcher, and I was bound to turn up something that wouldn't make the family happy. And I said it wasn't unlikely that by the time it ran, some Kennedy would be running for office.
---