Happy holidays for indie bookstores – but not for Barnes & Noble
(Read article summary)
Barnes & Noble reported disappointing holiday sales numbers while, in contrast, some independent bookstores said they had their best month ever.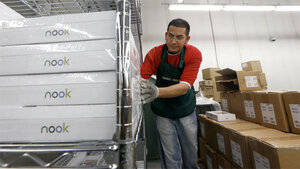 Julio Cortez/AP
The holiday season was not a happy one for Barnes & Noble, judging by latest sales figures released by the company.
Sales of their Nook products, which Barnes & Noble has been pushing over the past several months, dropped 12.6 percent to $311 million over the shopping season and total sales of retail operations also experienced a steep decline, dropping 10.9 percent to $1.2 billion. The company did not release sales figures detailing the number of Nook e-readers sold. Digital products, such as e-books, did increase by 13.1 percent, but the store reported that products that weren't Nooks experienced a sales drop of 3.1 percent because of a lack of traffic in stores.
"Nook device sales got off to a good start over the Black Friday period, but then fell short of expectations for the balance of the holiday," Barnes & Noble CEO William Lynch said in a statement. "We are examining the root cause of the December shortfall in sales, and will adjust our strategies accordingly going forward."
The book giant is still locked in a struggle with online behemoth Amazon, and the Nook device was supposed to be the ace up the company's sleeve that could enable them to keep abreast in the marketplace, which means that low sales over the holiday season must have been particularly disconcerting.
---