Dan Brown's new novel 'Inferno' links Langdon to Dante
(Read article summary)
Dan Brown's new book, 'Inferno,' will be released by Doubleday May 14.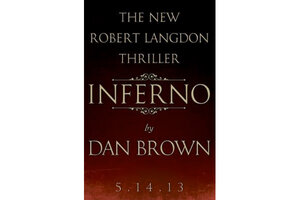 Bestseller lists are about to get a little more crowded this spring.
Dan Brown, author of the mega-hit "Da Vinci Code" and "The Lost Symbol," will release a new book May 14, his publisher Doubleday announced today. The adventures of "Da Vinci Code" protagonist and Harvard symbologist Robert Langdon continue in "Inferno," which will center on the literary masterpiece "Dante's Inferno."
"Although I studied Dante's Inferno as a student, it wasn't until recently, while researching in Florence, that I came to appreciate the enduring influence of Dante's work on the modern world," Brown said on his website. "With this new novel, I am excited to take readers on a journey deep into this mysterious realm.... a landscape of codes, symbols, and more than a few secret passageways."
The new novel will be set in Italy and has Langdon battling "a chilling adversary and [grappling] with an ingenious riddle that pulls him into a landscape of classic art, secret passageways, and futuristic science" against the backdrop of Dante's epic poem, according to a description of the book on Amazon.com.
---