A controversial new German novel imagines Hitler in the 21st century
(Read article summary)
'Er Ist Wieder Da,' or 'He's Back,' a novel by Timur Vermes that features Hitler as a contemporary protagonist, has galvanized Germans on the 80th anniversary of der Führer's rise to power.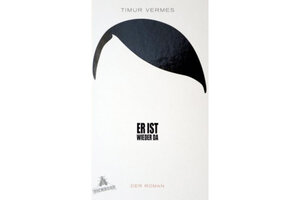 Imagine this: After a 66-year slumber, Adolf Hitler finds himself in 21st century Berlin where he enters politics, discovers jeans and email, and becomes a modern-day celebrity complete with a role on a popular Turkish-German TV show.
That's the premise behind one of Germany's most popular – and controversial – new books, "Er Ist Wieder Da," or "He's Back." The 400-page debut novel by Timur Vermes capitalizes on Germany's renewed fascination with the Nazi leader with stunning success as the country marks the 80th anniversary of his rise to power. The book has so far sold more than 400,000 copies and tens of thousands of audiobooks and has beat out novels by Paulo Coelho and Ken Follett to nab the top slot on Germany's bestseller lists.
"We too often harbor the negative attitude of those who see Hitler only as a monster to make themselves feel better," author Vermes told AFP. "I thought it was important to show how he would operate and how he would act in today's world."
---