'The Aviator's Wife' author Melanie Benjamin is drawn to 'locked doors and hidden closets'
(Read article summary)
Melanie Benjamin, author of a new novel about Charles Lindbergh's wife Anne, discusses her interest in women who have 'kind of fallen off the public's collective consciousness.'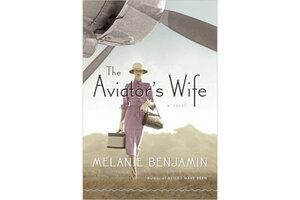 In her first two novels, Melanie Benjamin riffs on the stories of two fascinating but somewhat forgotten 19th-century women: "Alice I Have Been" (2010) follows the woman who inspired "Alice in Wonderland" while "The Autobiography of Mrs. Tom Thumb" (2011) features the wife of circus celebrity General Tom Thumb. Now, in "The Aviator's Wife," Benjamin has taken on the story of half of one of the most famous couples of the 20th century: Anne Morrow Lindbergh, wife of aviator Charles Lindbergh. Although today Anne Lindbergh is perhaps most often recalled as the suffering mother of a kidnapped baby (the Lindbergh's son Charles was kidnapped and killed in 1932 in an act called "the crime of the century"), she was also the daughter of an ambassador, a skilled pilot in her own right, and a critically acclaimed author.
In an interview with the Monitor, Benjamin (whose real name is Melanie Hauser) talked with me about how she picks her projects, what surprised her most about Anne Lindbergh, and what makes a great historical writer. Here are some excerpts of our conversation.
Q: What about historical figures makes you want to focus a novel around them?
A: Now that I've got three under my belt, I can sense a pattern. The first one, "Alice I Have Been," was just kind of blindly stumbling across what I thought was an interesting story. But I think I am looking for women who were well-known in their time, or for a short period of time, and have kind of fallen off the public's collective consciousness.
---