Oscar winners 2013 are dominated by literary adaptations
(Read article summary)
Among the biggest Oscar winners of 2013 were five movies that were adapted from books or articles, including 'Argo,' 'Life of Pi,' and 'Lincoln.'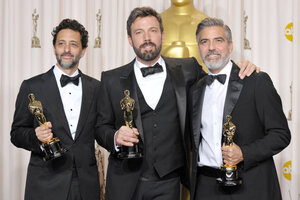 John Shearer/Invision/AP
The Oscars didn't just honor achievements in filmmaking in 2013. With five of the six winners of the big prizes going to movies that started as books, the Oscars also honored great writing.
The Best Picture winner of the night, the movie "Argo," was originally based on an article for Wired magazine by writer Joshuah Berman. The original piece was titled "How the CIA Used a Fake Sci-Fi Flick to Rescue Americans From Tehran" and was published in 2007.
Meanwhile, of the four top acting awards, three went to stars who appeared in movies based on books. Actor Daniel Day-Lewis, who won the Best Actor prize, had starred in the movie "Lincoln," which was based on the 2005 Doris Kearns Goodwin biography "Team of Rivals." Jennifer Lawrence, who won the Best Actress award, appeared in the film "Silver Linings Playbook," which was adapted from the 2008 novel of the same name by Matthew Quick. Best Supporting Actress winner Anne Hathaway starred in "Les Miserables," a musical adaptation of the 1862 Victor Hugo classic.
---