Tournament of Books: March Madness for readers
(Read article summary)
Founded by The Morning News online magazine, the Tournament of Books has 16 titles face off bracket-style for the title of best book of 2013.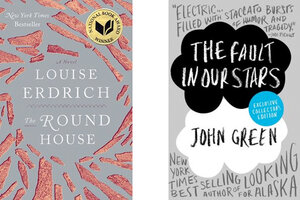 It's that much-anticipated time of year when competitors face off, eliminating contenders through a series of face-offs, as fans cheer on their favorites.
Oh, and we guess March Madness is going on, too.
The ninth annual Tournament of Books, founded by the magazine The Morning News, began yesterday and will choose the best book of the year through a March Madness-style bracket system. This year, the competition is presented by Nook by Barnes & Noble.
The idea for the event first arose, according to commentator Kevin Guilfoile, during an argument between editors and writers for The Morning News about how absurd book awards were. The assembled staff members discussed how they both loved and hated book awards because, while they seem arbitrary, they do at least spark discussion about what makes a good book. ("We love the conversation, the attempt to focus the world's attention on great literature," Guilfoile wrote for an article in the Chicago Tribune).
So The Morning News staff decided to start their own competition, honoring the best of literature that year but also acknowledging how subjective such decisions can be. Here is the tournament as they devised it: Each judge read two books and then select one to move on to a new round. Guilfoile and writer John Warner would discuss each decision as "color commentators."
"Each judgment, subjective and arbitrary, would expand and evolve into a (mostly) thoughtful conversation about contemporary literature," Guilfoile wrote.
The competition also includes a portion called the Zombie Round, in which readers can voice their choices for their favorite titles and, by doing so, bring back to the competition two contenders that had been eliminated.
The final winner is crowned with the title of the Rooster (named after essay writer David Sedaris's brother, Paul, who is the subject of several Sedaris stories and goes by the nickname of Rooster).
---