New Philip Roth documentary doesn't quite 'unmask' him
(Read article summary)
The new documentary 'Philip Roth: Unmasked' is an insightful look into the famed writer's life, but it doesn't quite go the distance.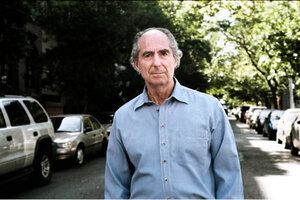 By all accounts, "Philip Roth: Unmasked," is a wide-ranging and insightful documentary that celebrates the great writer and shines a spotlight on his distinguished career, with one major flaw: there's very little actual "unmasking."
The 90-minute film, which is timed to coincide with the author's 80th birthday (March 19), will enjoy a weeklong theatrical premiere at the Film Forum in New York (March 13 to 19) before airing nationally March 29 on PBS stations as part of the "American Masters" series.
The film explores the life and work of the Pulitzer Prize-winning, two-time National Book Award winner from his Newark, N.J. childhood to his controversial, often sexually explicit psychoanalytical novels, to his "current status as literary eminence and perennial Nobel candidate," according to the AP.
---