'After Visiting Friends': Michael Hainey talks about his journey into his father's past
(Read article summary)
'After Visiting Friends' by Michael Hainey is part detective story, part memoir, part elegy.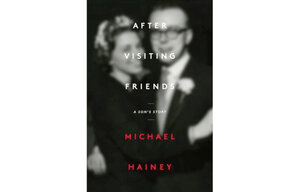 When one of their own passed away suddenly in 1970, the newspapers of Chicago remembered him in obituaries as a savvy young copy editor who left a widow and two little boys. He died, it was said, "after visiting friends."
The nosy parkers at the papers didn't feel the need to provide any more details. Their natural curiosity had suddenly vanished, gone like last week's fishwrap.
The family went on, the boys grew up, and the true story of a mysterious death remained a closely held secret. Then one of the boys, now an editor at GQ Magazine, decided to uncover the truth regardless of how painful it might be.
What actually happened late one night? Were there actually any "friends" or was that a bit of newspaper subterfuge, a bid to protect a buddy's reputation? What did people know, when did they know it and how could those still alive be coaxed to talk?
Michael Hainey's tale – part detective story, part memoir, part elegy – unfolds in the captivating and poignant new book After Visiting Friends: A Son's Story. He whips back and forth between the decades in search of clues, finding closed-mouth newspaper journalists (a species previously thought to be mythical) and unhelpful government paper-shufflers who are actually vulnerable to human emotion or at least free coffee (ditto).
Should anyone try to strip bare the past of a parent, especially one who can no longer defend or explain or deflect? I asked Hainey to ponder that question and consider whether mothers and fathers owe the truth to their children.

Q: Why is it so important to understand the lives of our parents?

A: We forget that our identities, our narrative stories that we used to tell ourselves who they are, are bound up in our parents' identities and their stories.
---