Roseanne Montillo discusses 'The Lady and Her Monsters,' her book about Mary Shelley
(Read article summary)
Frankenstein's monster – as imagined by Mary Shelley – has lived on in popular imagination for decades. Montillo discusses reanimation and the ways that religion and pop culture have changed our view of Shelley's characters.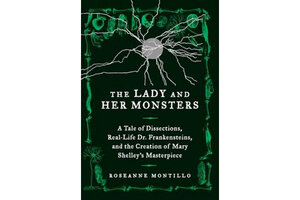 Like many others with limited maturity levels, I've been utterly corrupted by Mel Brooks.
Bring up the word "Frankenstein" and I don't think of Mary Shelley or even Boris Karloff. No, unfortunate people like me immediately fall into a reverie of jokes from a certain 1970s movie: "Blücher!" (whinny), "Would you like a roll in zee hay?," and, of course, "What hump?"
Never mind all that (even poor Abby Normal). Or the other Frankenstein movies, the Halloween costumes, and "The Munsters." Turns out they miss much of the gist of the original 1818 novel.
Frankenstein is the scientist, not the monster. His creation is smart and eloquent, far from a grunting ogre. Beyond that, the whole story – as imagined by an extraordinary young woman – explores deep questions about humanity, death, and the limits of science.
Emerson College literature professor Roseanne Montillo explores a world of grave-robbing, fantastic, scientific advances and scandalous writerly behavior in her new book "The Lady and Her Monsters: A Tale of Dissections, Real-Life Dr. Frankensteins, and the Creation of Mary Shelley's Masterpiece."
In an interview, Montillo talks about science without boundaries, a monster with a brain, and the "Frankenstein" quandaries that still resonate after almost two centuries.

Q: These days, scientists would be laughed out of the laboratory if they tried to study bringing people back from death.
---