Digital Public Library: the promise of the Internet fulfilled
(Read article summary)
The Digital Public Library will make the holdings of America's libraries and museums available to all Americans (and, eventually, everyone), free and online through one portal.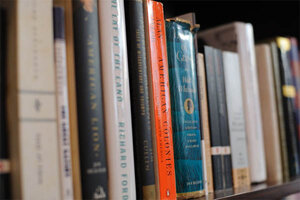 Ann Hermes/CSM Staff
"Doctor Who" fans have a reason to be especially happy this month as the world moves one step closer to creating "The Library" – the fictional planet that contains every book ever written.
The Digital Public Library of America will launch on April 18. It's run as a non-profit by a board of directors headed by executive director Daniel Cohen. The group's goal is a lofty one: free public access to all the content of all libraries and museums everywhere in the US. Harvard Librarian Robert Darnton has already waxed poetic about the DPLA's fulfillment of the ideals of democracy.
Many libraries in the US have already started digitizing their collections, but there is no convenient way for those libraries to connect with each other, or for users to connect to that information. That's where the DPLA comes in. The group is not collecting all of the data into one central location. What they are doing is tracking the collections, providing or aggregating existing descriptions of each item (in other words, "metadata"), and linking users to the databases already maintained by libraries and cultural institutions. The DPLA will fund digitization where it has not happened, and collect new materials incrementally, making them available to all the libraries, museums, and archives in the US.
They're starting small, with just the already digitized printed content from American museums and libraries, especially rare materials. "We are concentrating at first on the written record – books, pamphlets, periodicals, manuscripts, and digital texts – but are designing the system such that we can move quickly to other types of materials, such as images, moving images, sound recordings, and the like," their wiki Concept Note explains. They've also designed it so that it can easily integrate with Europeana, which is the EU's version of a digital library.
---