David Sedaris's new essay collection: big sales, mixed reviews
(Read article summary)
David Sedaris's new essay collection, 'Let's Explore Diabetes with Owls,' is his first work focusing on his own life since 'When You Are Engulfed in Flames' in 2008.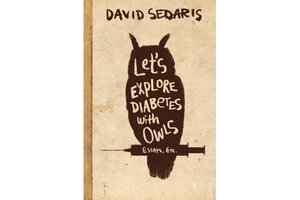 Essay-writing superstar David Sedaris has released a new collection titled "Let's Explore Diabetes with Owls," and it's topping bestseller lists despite receiving mixed reviews.
"Let's Explore Diabetes with Owls" was released last month on April 23 and currently holds the number one spot on both the combined print and e-book nonfiction and the print nonfiction New York Times bestseller list for the week of May 12. It's also at number one on the Hardcover Nonfiction list for IndieBound's April 29 list. The book is Sedaris's newest work since "Squirrel Seeks Chipmunk," a collection of humorous stories about animals that came out in 2010. His last collection of personal essays, "When You Are Engulfed in Flames," came out in 2008.
Critical reception of the new collection has been uneven. Monitor critic Lisa Weidenfeld said much of Sedaris's work is still hilarious.
"Sedaris remains as quick-witted as ever," she wrote. "Even in an essay in which he's going after the low-hanging fruit of a basic language seminar, he's still going to force you to interrupt whatever your friends and loved ones are doing to explain to them why you're sitting there giggling."
However, Weidenfeld noted that some of Sedaris's topics make it seem like the writer is losing perspective a bit, as in an essay where he is shocked by how much the English litter and starts picking up trash from the ground.
"The concept of the world-famous author walking around with grimy fingernails and picking up empty McDonald's bags is comical on its own," she wrote. "But even within that context, it's still an essay about a wealthy man with the time to go hike around the countryside all day."
Los Angeles Times writer Heather Havrilesky, on the other hand, enjoyed the book wholeheartedly.
---