Dan Brown's 'Inferno': Will its sales live up to his previous books?
(Read article summary)
Dan Brown's new novel, 'Inferno,' will star protagonist Robert Langdon and focus on Dante's 14th-century epic poem of the same name.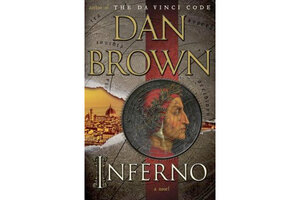 Talk about blazing hot.
We're not just talking about Dan Brown's forthcoming novel, "Inferno," the author's fourth and highly anticipated book in the Robert Langdon series – we're also talking about its sales, which are expected to be smoldering.
"Inferno" hits shelves in the US and UK Tuesday and booksellers, many of which enjoyed brisk sales from Brown's previous three novels in the series, are bracing for blockbuster sales.
"This should be the fastest and biggest selling novel of the year – it's hard to see how anything could beat it," said Chris White, a fiction buyer for the UK's Waterstones chain, according to media reports. "It'll be a huge hit now and throughout the summer, then see another peak at Christmas. It could well be No 1 on 25th December."
If Brown's previous novel sales are any indication, that's not hyperbole.
Since its 2003 publication, the "Da Vinci Code," the second novel in the Robert Langdon series, has sold 80 million copies, spent more than a year atop the New York Times bestseller list, and was made into a hit movie starring Tom Hanks. "The Lost Symbol," Brown's most recent work, sold more than half a million copies in its first week on sale in 2009.
---