Vice Magazine's controversial images of female authors committing suicide are taken down
(Read article summary)
Vice Magazine's newest fashion spread depicted models dressed like Virginia Woolf, Sylvia Plath, and others in the act of committing suicide. The photos were taken down after a public outcry.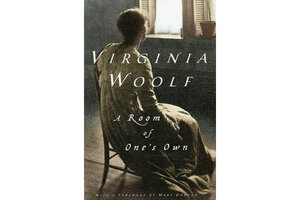 When you open a fashion magazine, you generally expect to see models wearing the newest designer clothing, photographed while standing in a meadow or striding down a city street.
So readers of Vice Magazine were understandably taken by surprise when they viewed the publication's newest fashion spread, which consisted of models posing as female authors about to commit suicide.
The magazine section, which was titled "Last Words," offended many and caused Vice to remove the photos from its website.
The photos, which included shots of models dressed as Sylvia Plath, Virginia Woolf, and Chinese author Sanmao, among others, about to commit their particular methods of suicide, originally went online on June 18, but they were taken off the site today after an outcry ensued.
"Vice is known for its poor taste, but its latest fashion spread by photographer Annabel Mehran demonstrates a particularly egregious trolling attempt," Salon reporter Michelle Filgate wrote. (The practice of "trolling" refers to posting something shocking or offensive online just to get a reaction.)
Examiner writer Emily Sutherlin called the photos "graphic and highly offensive."
Jezebel writer Jenna Sauers noted that the photos contained only the authors' names and dates of death, with no information about their books. The photos also contained the names of the fashion designers whose clothes the models are wearing.
---