Amazon creates a new comic books imprint
(Read article summary)
The imprint, titled Jet City Comics, released its first title, a work named 'Symposium #1," on July 9.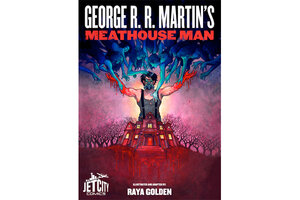 It's no secret comic books are big business, particularly with the box office success of multiple recent movie adaptations.
And now Amazon's getting in on it with their new imprint, titled Jet City Comics, which will publish graphic novels and comics.
The imprint is scheduled to release works written by or based on writings from authors including "Game of Thrones" writer George R.R. Martin, "Snow Crash" author Neal Stephenson, and Hugh Howey of the sci-fi series "Wool." (Howey's books are being published through the Kindle Directing Publishing System run by Amazon.) Works will be released in both digital and print form and, according to Amazon, print versions will be available through other comics booksellers as well as through the bookselling giant.
"It's a dream to work with superstar authors like George, Hugh, and Neal on the launch of a new imprint," senior editor of Jet City Comics Alex Carr said in a statement. "We're working with an incredible, hand-picked team of comics professionals, writers, artists, and translators, who have done an amazing job developing and expanding these inventive stories."
---