Emma Brockes talks about 'She Left Me the Gun,' the difficult story of her mother's past
(Read article summary)
Anything but a 'misery memoir,' the remarkable and moving, 'She Left Me the Gun' by Emma Brockes explores the power of resilience and humor.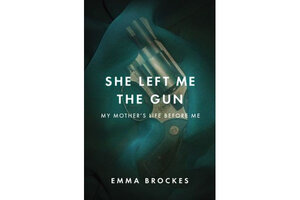 Wretched family violence, deep betrayal, and epic dysfunction are the hallmarks of many "misery memoirs," as British journalist Emma Brockes likes to call them. They're part of her personal story too as the daughter of a woman who endured all of the above.
But Brockes took a different path when she started working on a memoir of her family.
Yes, she'd investigate the horrors that her mother endured. But she'd also track down relatives who are, to put it mildly, a couple scones short of a tea party. And she'd explore her late mother's incredible resilience and stunning personality.
The result is the amazingly perceptive new book "She Left Me the Gun: My Mother's Life Before Me," which is "not one of those boo [naughty word] hoo memoirs," as one critic puts it. Absolutely not. "She Left Me the Gun" is a high-speed literary train that pulls readers through a landscape of joy and pathos.
I asked Brookes, who's based in New York City, to describe her amazing mother, her motivations for dipping into a terrible past, and the lessons of this remarkable story.

Q: Like Michael Hainey, another author I interviewed recently, you made a decision to investigate your family's past knowing that you could find devastating details and potentially hurt people. What led you to make that choice after your mother's death?
A: It was completely selfish decision made in the midst of grief when you think you're free to do anything.
I wasn't thinking that clearly. But I knew that this was necessary to me. In order for me to let her go, I needed to be able to circumscribe my loss. I couldn't do that unless I knew everything about her.
---