Baby names advice: Keep it to yourself
(Read article summary)
Baby names, baby names, baby names: Nothing is mulled over and debated more during a pregnancy than what to name your newborn. One mom warns: Keep it to yourself, or the chatter may sully your bright idea.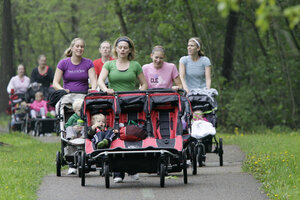 Associated Press
We have come to that point in this pregnancy, Husband and I, where people no longer wonder whether I've just become too close with Ben and Jerry.
There are none of those "is-she-or-isn't-she" pauses; no worries that they will make a mistake while identifying this bowling ball of a belly as a baby-in-the-making.
Clearly, this woman is pregnant. Very.
Yes, we have entered the phase where fellow passengers on the airplane look at me nervously. Where some people look at me and smile and other people avert their eyes uncomfortably. And where everybody – everybody – asks whether we have a name yet.
I mean, some people don't. But many do.
And we have learned, Husband and I, that no good can come from answering this question.
See, everyone went to school with someone with the same name you are pondering for your soon-to-be progeny. Usually it was the nasty kid or the evil girl or that guy they thought was up to no good behind the black fingernails and dark hooded sweatshirt. And they will jump to share this information. Because.... because.
Or maybe the name sounds to your friend/relative/person behind the Starbucks counter like it has, as one helpful barista informed me, a bad aura.
Or perhaps the inquirer will share the important factoid that every other child in her daughter's class has that same name, and how she is quite glad that her child won't need to have a last initial attached to her first name to distinguish her from all the other Sofias/Isabellas/Emmas out there. (No judgement call there, folks – just picked as examples the top names of 2011, as called by the Social Security Administration.)
---