'The Mortal Instruments: City of Bones' author Cassandra Clare discusses the upcoming movie
(Read article summary)
Clare said it was 'surreal' that the movie had finally come to fruition. The film based on Clare's book is scheduled for release on Aug. 21.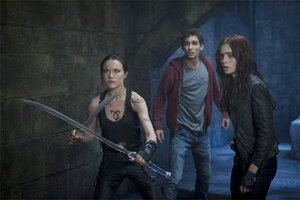 Rafy/Sony Pictures Entertainment/AP
"The Mortal Instruments: City of Bones" – the latest young-adult-novel-made-into-movie that Hollywood is hoping will be "The Hunger Games" of summer 2013 – is hitting theaters Aug. 21. "City of Bones" is based on the first book of bestselling "The Mortal Instruments" trilogy by YA author Cassandra Clare.
"Bones" centers on a teenage girl living in New York City named Clary Fray (Lily Collins of "Mirror Mirror"), who discovers she has powers that enable her to fight supernatural creatures known as demons. Clary begins training to become a Shadowhunter, part-angels who fight the demons, along with other Shadowhunters like Jace ("Harry Potter and the Deathly Hallows: Part 1" actor Jamie Campbell Bower).
The film version of "City of Bones" also stars "Misfits" actor Robert Sheehan as Clary's best friend Simon; "Game of Thrones" actress Lena Headey as Clary's mother; "Gossip Girl" actor Kevin Zegers as Alec, a fellow Shadowhunter; and "The Tudors" actor Jonathan Rhys Meyers as the villain Valentine Morgenstern.
Clare told MTV the fact that the movie had actually come to life was "surreal." Clare's grandfather worked as a movie producer, so she'd seen projects fizzle.
---