'Breaking Bad': Is a Shelley reference a hint about future plot developments?
(Read article summary)
The next 'Breaking Bad' episode is titled 'Ozymandias,' which is also the name of a Percy Bysshe Shelley poem that reflects on the fleeting nature of power and glory.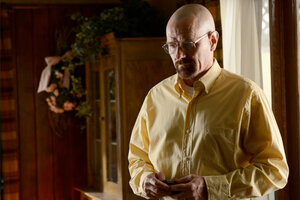 Ursula Coyote/AMC/AP
With "Breaking Bad," his wildly successful cable TV series about Walter White, a dying high school teacher who begins selling crystal meth to build a family nest egg, producer Vince Gilligan has been giving some poetry classics a heightened profile in the popular culture.
Gilligan's affection for Walt Whitman's "Leaves of Grass" was the subject of an earlier "Chapter and Verse" post here.
The 19th-century bard's masterwork figured into a major plot development when Walter's brother-in-law Hank, played by Dean Norris, realized that Walt's copy of "Leaves of Grass" was evidence of Walt's crimes.
Now, with Sunday's upcoming "Breaking Bad," episode, titled "Ozymandias," Gilligan has given the nod to another great poet, Percy Bysshe Shelley.
Sunday's episode takes its name from one of the most famous poems by Shelley, the celebrated English poet who lived between 1792-1822.
In "Ozymandias," a desert adventurer recalls coming across a deteriorated and long-neglected statue of a once-great ruler named Ozymandias. The statue bears a chilling message relayed in the poem's last stanza:
"My name is Ozymandias, King of Kings
---