Is having a strong children's section a secret to success for indie bookstores?
(Read article summary)
An informal survey recently carried out by Publishers Weekly found that most stores where children's books had a strong presence are doing well financially.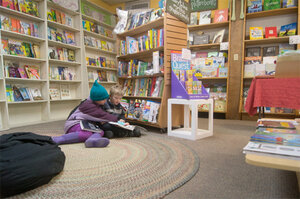 George Levines
How big a role does having a children's section play in the success of an indie bookstore?
Publishers Weekly recently did an informal survey of various independent bookstores to investigate how sales had gone over the summer and found that "most independent bookstores with strong children's sections are doing fine" financially, according to PW writer Judith Rosen, with a majority matching their sales from this time last year if not experiencing increases in sales numbers.
"I don't know what we would do without children's book sales," Mary Emrick, co-owner of Turning Pages Books & More in Natchez, Miss., told Publishers Weekly. "The section is our best."
Karen Hayes, co-owner of Parnassus Books in Nashville, Tenn., agreed.
"Children brings parents in, who buy adult books along with kids' books," she said. "It gives the store a lot of life." Parnassus is experiencing a 27 percent increase in sales for the year so far, while Indiana-based 4 Kids Books & Toys told PW they're having their best year yet.
One reason kids bump up sales numbers? They don't go home and buy a book they saw in an indie store on Amazon, says Bruce DeLaney, owner of Rediscovered Books in Boise, Idaho.
---