'Anna Karenina,' 'Moby-Dick,' and 'Les Miz' – for tots?
(Read article summary)
Some literary classics are now being adapted for the youngest of readers.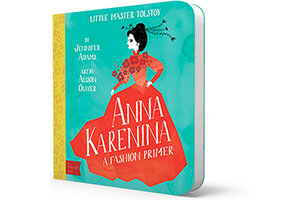 Talk about starting them young.
The newest trend in children's board books, it seems, is literary classics adapted for the under-three set. Think "Sense and Sensibility," "Les Miserables," yes, even "Anna Karenina" and "Moby-Dick" for babies and tots.
All with bold shapes and colors, and highly chewable corners, of course.
As more and more parents are reading early to their children – some parenting guides suggest starting in infancy – publishers are responding with more substantial fare.
Of course, it's not the first example of exposing young ones to sophisticated material, as Linda Bubon, an owner and children's book buyer at Chicago bookstore Women & Children First, told the The New York Times.
"If we're going to play classical music to our babies in the womb and teach them foreign languages at an early age, then we're going to want to expose babies to fine art and literature," she said. "Now we know there are things we can do to stimulate the mind of a baby."
Cozy Classics and BabyLit, which was conceived when Suzanne Gibbs Taylor, a creative director at a small Salt Lake City publishing house realized no one had ever "taken Jane Austen and made it for babies," are among the series of literary board books.
---