Top Picks: 'Otello' the opera, candid president photos, and more
Amoeba Music digitizes its record collection, PowerMobyDick.com helps you decode Melville's text, and more top picks.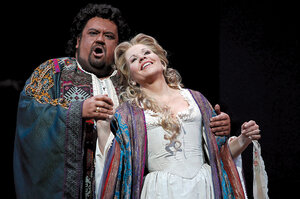 AP
Golden voices
In Otello, luminous soprano Renée Fleming and veteran Johan Botha bring Verdi's monumental opera of passion and betrayal to PBS on Great Performances at the Met Feb. 24 (check local listings). Rising tenor Michael Fabiano debuts as Cassio. Conductor Semyon Bychkov keeps the evening electric and alive. Falk Struckmann plays villainous Iago. This story never ceases to move an audience to tears.
Vinyl online
California's Amoeba Music has done a big favor for those who love hunting down rare records. They've digitized most of their vast inventory of rare and out-of-print 33-1/3, 45, and 78 r.p.m. vinyl records and made them available online at amoeba.com. So far there are more than 1,000 tracks and albums posted, ranging in price from 75 cents to $4 for a song, to $6 to $20 for a full album. Each track is available in three levels of digital sound quality and 90-second samples are just a click away.
Candid Prez
Celebrate Washington's Birthday by viewing some of the most iconic poses struck by commanders in chief. The President's Photographer on National Geographic.com is a slide show (also available as a book) of pictures of American presidents and their families caught in unexpected moments. Check out President Obama wearing 3-D glasses or first lady Betty Ford posing on top of the Cabinet Room table at http://bit.ly/natgeoprez.
All the First Ladies
---