Top Picks: A book on the history of Columbia Records, a PBS special that studies the life of Henry Ford, and more
Writer Deon Meyer spin a fascinating South African mystery in 'Seven Days,' PBS honors the astronauts on board the Columbia, and more top picks.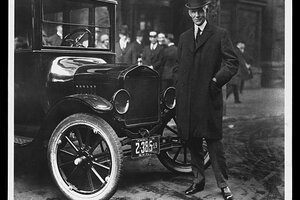 PBS
Surround sound
What do Al Jolson, Bob Dylan, Louis Armstrong, Leonard Bernstein, Barbra Streisand, Dave Brubeck, Bruce Springsteen, The Byrds, Johnny Cash, and Adele have in common? They've all recorded for the oldest record label in the world, Columbia Records. To celebrate its 125th anniversary, music historian Sean Wilentz has written 360 Sound: The Columbia Records Story, a lavishly illustrated history of the label, its groundbreaking sound innovations, and – most important – its peerless cavalcade of artists.
Free App Alert
---