Top Picks: Acting luminaries talk Shakespeare, Discovery showcases a giant squid, and more
PBS honors naturalist TV host David Attenborough, the New York Times explores a deadly avalanche in Seattle, and more top picks.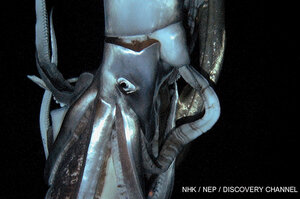 Discovery
The Bard, revisited
In a six-part series, PBS takes apart the major plays of William Shakespeare. Beginning Jan. 25, tune into Shakespeare Uncovered to hear some of the top British and American talent deconstruct "Macbeth," the comedies, "Richard II," "Henry IV," "Henry V," "Hamlet," and "The Tempest." A parade of luminaries – Ethan Hawke, Vanessa Redgrave, Trevor Nunn, Jeremy Irons, Derek Jacobi, and Orson Welles (in archival footage) – share insights on the Bard and his extensive cast of characters.
Future of journalism
The New York Times has produced a compelling six-part multimedia narrative about an avalanche that swept down Tunnel Creek on Cowboy Mountain near Seattle, killing three backcountry skiers in February 2012. The excellent writing, slide shows, graphics, and videos by Times staffers point toward journalism's promising future. Set aside an hour for this captivating and tasteful retelling online at http://bit.ly/CowboyMountain.
Giant squid lives!
Scientists the world over have hunted the oceans' fabled monsters for centuries. Now, Discovery, in partnership with Japan's NHK, has captured the thrills of encountering one of the strangest and most legendary creatures – the giant squid – on film for the first time ever. The underwater teams spent years hunting this leviathan of the deep in his own lair and finally found him. Monster Squid will air Jan. 27 as the finale of Discovery's "Curiosity" series.
---