As economy lags, what levers to pull?
Pressure is mounting for the US government to act soon to prevent a recession.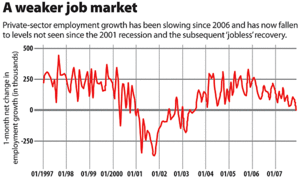 SOURCE: Bureau of Labor Statistics /Rich Clabaugh–STAFF
Economic troubles are spreading beyond the US housing market, putting pressure on President Bush and other policymakers to try to prevent a recession.
What they do – or don't do – could have far-reaching implications: from the performance of the economy itself to GOP election prospects to Mr. Bush's own economic legacy. But any such efforts face two large hurdles. First, it is hard for policy to exert a rapid influence on the overall economy. Second, the president has less room to maneuver than in 2001, when he faced a similar slowdown. Then, federal budget surpluses allowed him to push through a tax cut with relative ease; now, he would need to convince a Democratic Congress either to expand the deficit or agree on how to offset the costs in the future. Still, the latest evidence suggests that the federal government must consider doing something.
Unemployment jumped to 5 percent of the labor force in a report released Friday. That's up from 4.7 percent the month before. In a disturbing parallel shift, private-sector job creation turned negative for the month. If that weakness persists and worsens, it would echo what happened the last time the US entered a recession, in 2001.
The slack job market creates an atmosphere of urgency for the president.
"The reports put the administration in rather a bad position," says J.D. Foster, a senior fellow at the conservative Heritage Foundation in Washington. "They don't want to fall into the trap" of appearing complacent.
---