The inflation squeeze tightens
Prices spiked 4.1 percent last year, the highest increase in 17 years.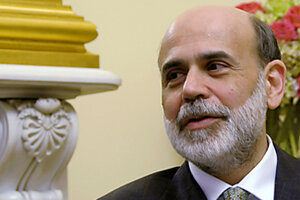 Dennis Cook/AP
Inflation is starting to take its toll on the economy.
Almost anyone who drives knows it costs more to tank up than a year ago. Add in higher prices at the grocery store or the specialty-food shop, and consumers are beginning to feel the impact on their wallets. Higher food and energy costs are the main reasons that inflation last year was at its highest level in 17 years – a galloping 4.1 percent as measured by the consumer price index.
"The middle class is getting squeezed," says Scott Brown, chief economist at Raymond James & Associates in St. Petersburg, Fla.
The rising cost of living is a big reason that holiday sales were disappointing, economists say. Consumers, faced with lower wages and higher prices, are shopping less. Disposable income is shrinking. Last year, wages fell 0.9 percent after adjusting for inflation, says Mr. Brown.
"Real purchasing power is being constrained," he says.
On Wednesday, the extent of this economic squeeze became more apparent when the government reported the December CPI as well as the results for the full year. For December, inflation rose 0.3 percent, down from 0.8 percent in November. But, over the past three months, inflation has grown at a 2.7 percent annual rate.
"These numbers clearly reveal disturbingly high levels of inflation, due mainly to a surge in energy prices in the second half," says Richard DeKaser, chief economist at National City Corp. in Cleveland. "Even removing food and energy, the level is clearly at the high level of the Federal Reserve's comfort zone."
---