Stimulus bill hits Senate this week
A bipartisan accord in the House calls for a $150 billion spending plan, including significant tax rebates. But senators may want add-ons.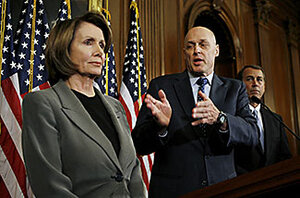 Kevin Lamarque/Reuters
In a rare display of bipartisanship, Congress is on a fast track to approve a $150 billion spending package to boost a sluggish US economy.
It is the first of what are likely to be several stimulus plans put forward on Capitol Hill in coming months and the one most likely to become law.
With an election ahead in November, Republicans and Democrats are both under pressure to pass popular measures that reduce the risk or severity of a recession. That's why each side has made compromises, dropping controversial measures from the legislation to get a bill to President Bush by mid-February.
"We're doing our very best to maintain the bipartisan atmosphere that we have in the House," said Senate majority leader Harry Reid in a briefing last Thursday.
Even before the House votes on the deal, however, Senate committees are preparing this week to consider adding other elements, such as extending unemployment insurance, increasing food stamp programs and Medicaid payments to states, and reviving a $21.8 billion package of renewable-energy tax credits, which could boost employment in alternative-energy industries.
Support for adding elements to the bill is bipartisan, Senator Reid said. "We've had [Senate] Democrats and Republicans ask for certain things.... We have Republicans who are also concerned about extending unemployment benefits," he said.
---