U.S. economy still ticking, just barely
GDP rose by only 0.6 percent last quarter, the slowest rate in one year.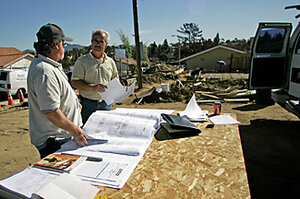 Lenny Ignelzi/AP
The US economy is losing its momentum but is stubbornly refusing to drift into a recession.
Instead, it appears that consumer purchases of appliances such as flat-screen TVs, a modest increase in state and local spending, and continued strength in the construction of commercial buildings have kept the economy on the plus side.
Housing, however, remains a major drag on economic growth. And businesses are continuing to let inventories run down.
"I would say the economy is hanging by a thread, but I think the thread will hold," says Stuart Hoffman, chief economist at PNC Financial Services Group in Pittsburgh.
A measure of how close the economy is to dropping into negative territory came on Wednesday, when the Commerce Department, in a preliminary estimate, said the gross domestic product rose by a 0.6 percent rate in the last quarter of 2007. This was the lowest rate of growth since the first quarter of last year. In the ensuing year, the banking system wrote off billions of dollars in bad debt, housing prices fell by more than 7 percent, and consumers became more cautious, especially as energy prices soared. For 2007 overall, the Commerce Department estimated that GDP rose 2.2 percent.
Keeping the economy out of a recession is now one of the major tasks facing policymakers. Congress is racing to enact a stimulus package to help the economy late this spring or early summer. The Federal Reserve has reduced interest rates by 2-1/4 percentage points since the middle of September. That includes a half-point rate reduction announced Wednesday afternoon.
---