Mortgage crisis fallout spreads to 'muni market'
Investors are wary of insurance guarantees for some bonds issued by cities to fund capital projects.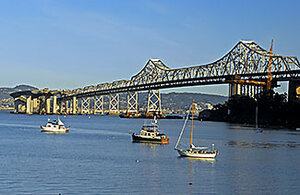 Alfredo Sosa – staff
The subprime mortgage crisis continues to ripple well beyond home foreclosures.
Municipal bonds, securities issued by local governments to fund anything from new sewers to airport improvements, are now caught in the backwash. Though defaults by communities are rare, buyers of their bonds are now wary of investing in any but the best-run and highest-rated communities.
"There has been a disruption the market is not used to," says Bill Stone, chief investment officer of PNC Wealth Management in Philadelphia. "The default rates are so low we can't say it's a crisis, but there is no question there are liquidity issues in the muni market.
The reason for the problem: Many US cities and towns have purchased insurance that boosted their bonds into the best-rated investment category. But some of the insurance companies are the same institutions that also guaranteed the payments on securities backed by subprime loans. Those insurance companies have seen a downgrading of their investment rating, which is used as a surrogate for lesser-rated municipalities that buy the insurance.
Among the effects so far:
•The ability of municipalities to issue new bonds has sharply contracted. According to market participants, the volume of new bonds is down about 80 percent so far this year. Cities from Miami to Chicago have had to postpone bond offerings. But it's too early to tell if such postponements will result in any delays in capital projects.
---