China's economic growth can soften U.S. slump
Emerging economies are now big enough to help but not save Western giants.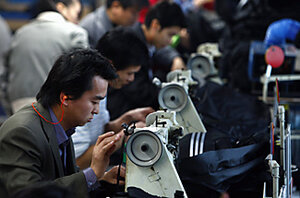 Jason Lee/Reuters
As the industrialized world slides toward possible recession, could still-booming developing nations come to its aid? Can China save America?
Hardly. Economies such as China's and India's are growing fast, but they are still much too small to pull giants such as the United States or Europe out of a swamp, say most economists.
For the first time, though, developing countries – now accounting for more than half of global economic growth – could probably ride out the storm afflicting richer nations.
"China is not going to save the world," says Jonathan Anderson, chief economist at UBS Bank in Hong Kong. "But it is part of a very different picture. The US, Europe, and Japan will go in one direction, and the developing world will carry on."
And if the emerging markets do keep growing during a developed-world slump, economists note, they could at least cushion the blow for others. They will continue to import the industrial machinery that US and other advanced nations make and will still have an appetite for raw materials such as oil and minerals from the Middle East, Africa, and Latin America.
---