Will commodities boom last
As oil and gold prices hit record highs, and grains stay up, speculators rush in.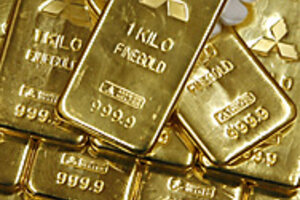 Toru Hanai/Reuters
A bull market in commodities has become the big way for investors to make money this year, but it could also be just another price bubble that will build up only to deflate.
What's clear is that trading in raw goods – things measured in bushels, barrels, and ounces – is a strategy that's working for investors, at a time when gains in traditional stocks and bonds have grown scarce.
Oil prices surged this week above $105 per barrel, an all-time high even after adjusting for inflation. Gold neared an unheard-of $1,000 per ounce. A huge run-up in grain prices is enough to make bakers rethink their traditional definition of a dozen.
Are prices for these items outrunning their fundamental value?
In each of these cases, investors can cite solid reasons for the gains. These include tight supplies of energy, the way that rising concern about inflation ignites demand for gold, and tough weather for many of the world's farmers. But some analysts also say that in each case, speculation and a big money shift by investors has been an important factor as well.
"In any of these [booms] there's always a kernel of truth to them – maybe a whole ear," says economist Gary Shilling, who is currently visiting Kansas wheat country. "What you do know is that when the speculation starts, it does reinforce itself."
Many analysts don't see the commodity boom as having already entered a bubble phase. But Shilling, who runs a research firm in Springfield, N.J., is in the camp that sees the run-up as inconsistent with signs that the economy is cooling worldwide, led by what he says is already a recession in the United States.
---