Bush, Congress clash over economy
The president chastises Democrats for not addressing soaring gas and food prices and the housing crisis.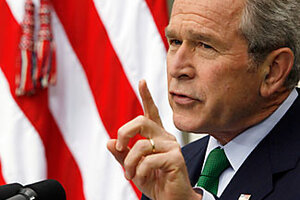 Charles Dharapak/AP
In the run-up to a high-profile update on the nation's economic growth Wednesday, President Bush and Congress clashed over who is to blame for delays in responding to top concerns of American families: soaring gas and food prices, a housing crisis, and the student loan crunch.
"I've repeatedly submitted proposals to help address these problems. Yet time after time Congress chose to block them," the president said at a Rose Garden press conference on Tuesday.
The solution for high gas prices is expanding production here at home, including opening the Arctic National Wildlife Refuge (ANWR) to exploration and drilling – a move that would produce about a million additional barrels of oil a day, he said. He also called for building more refinery capacity and expanding the use of nuclear power.
In response, Democrats charged that the president and a Republican majority had six years to improve the nation's economic condition, including a looming energy crisis, and fell short. "Now, with less than a year remaining in his administration, the president is demanding immediate action," said House Speaker Nancy Pelosi in a statement.
On Tuesday, a widely watched consumer confidence index fell to 62.3 percent this month, according to The Conference Board, the lowest it has been in five years.
---