Why U.S. job market has not plunged
April saw only 20,000 jobs lost, and unemployment improved to 5 percent.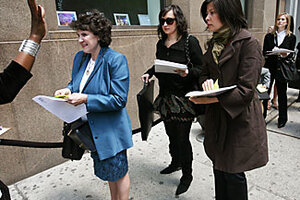 mark lennihan/ap
Despite the burdens of record oil prices and a housing bust, the US economy has been avoiding a sharp downturn where it matters most – in jobs.
By the government's initial count, the economy lost hardly any jobs in April, and the unemployment rate actually declined.
What's going on here? Is this the same economy where sky-high costs for gasoline and milk are squeezing consumers, where big banks are in trouble, and where trillions of dollars in housing wealth have vanished?
Yes, it's all the same economy.
Part of the story is that the job market may not be as shock-resistant as it appears. Its general trend is still weakening, and many forecasters expect that to continue in the months ahead.
But another side to the story is that several forces may allow employment to remain relatively resilient in the face of difficult financial straits. That could keep any recession from turning into a severe slump.
"I don't expect this to be a recession of the type that we had in the 1970s," says Peter Rodriguez, an economist at the University of Virginia's Darden School of Business. "Employers have been judicious in making payroll cuts. That's more or less good news."
In the mid-1970s, a deep recession involved both rapid inflation in consumer prices and unemployment of about 9 percent.
Now, the United States again confronts worrisome inflation and a sharp economic slowdown. But some economists predict the jobless rate will rise, by next year, only a bit above 6 percent – about the level where it peaked after the relatively mild recession of 2001.
Economists say the forces at work include:
• Many employers were cautious before the recession. With lean staffs, businesses aren't inclined to jettison employees they worked hard to find and train.
• The US job market is flexible. When times get tight, many people end up working shorter hours or getting smaller raises, but avoiding pink slips in the process. "It does keep people in their jobs," Mr. Rodriguez says.
---