Profile of a (maybe) recession
Some analysts think the slowdown may be confined largely to the housing market.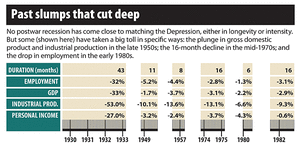 SOURCE: American Institute for Economic Research/Rich Clabaugh–STAFF
Optimism has grown this month that the United States may escape a recession. But don't haul out the ticker tape just yet.
The current economic slowdown is unusual – and difficult to read – because the housing market is playing such a central role.
Alongside high oil prices and a credit squeeze, a downturn in homebuilding and home prices has rattled consumer confidence, which fell Tuesday to a 16-year low. That prompts many economists to say a recession is still likely.
Yet housing cycles historically have been slow, taking years on both the up and down side. Moreover, the decline in housing wealth doesn't cause an equal or immediate decline in consumer spending. This may portend a kind of slow-motion slump, one that may not even end up officially as a recession.
"We are not going to have a recession this time. This time the troubles in housing will stay in housing," predicts Edward Leamer, director of the Anderson Forecast at the University of California, Los Angeles. "[But] it's harder to forecast because something new is happening this time."
It's common, he says, for housing to be one of the sectors hit early and hard by an economic downturn. And the current housing downturn is unusually deep. Home prices are down 14.1 percent in the past year, according to the Standard & Poor's Case-Shiller index, released Tuesday.
But recessions involve a sharp slowdown in economic activity well beyond housing and construction. Mr. Leamer says that the manufacturing sector generally plays the pivotal role, in terms of job losses, during recessions. After the last US recession, which occurred in 2001, US factories never went on a hiring spree, and this year's economic slowdown so far hasn't spawned manufacturing layoffs at typical recession rates.
---