U.S. auto giants race to go small
In the rush to efficient cars, Detroit is losing out to Asian brands.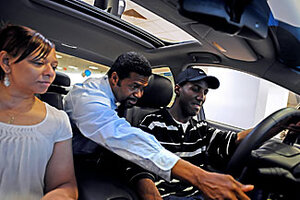 Ann Hermes
The auto industry is rushing to adapt to the world of $4-per-gallon gasoline, but the effort is a costly one that could tax America's homegrown carmakers most of all.
From Honda to Ford, all the automakers are ramping up production and design of high-mileage small cars and gas-electric hybrids. But consumers shouldn't hold their breath for hot deals on 50-mile-per-gallon vehicles.
The challenge: Product line make-overs can't be accomplished overnight, and a deep slump in current sales is burning through the cash available for investment.
In the past few days, Ford Motor Co. has announced production cutbacks for its light trucks, General Motors has unveiled big incentives to unload showroom inventory, and even Toyota has warned that it may have to scale back its sales target for the year.
In this climate of an overall sales decline, the US brand names are the hardest hit: For the first year ever, they may account for less than half the nation's car sales.
"That is certainly possible," says Tom Libby, an analyst at J.D. Power in Detroit. "In May we saw a dramatic shift in the marketplace."
For months now, high gas prices have been pushing consumers toward smaller cars and from sport-utility vehicles toward so-called crossovers, which offer SUV amenities on a lighter frame.
---