Census: Income rose, middle class grew in 2007
But child poverty also rose, according to the new report.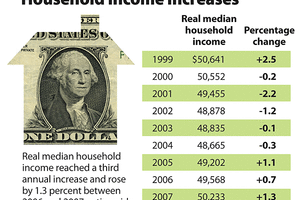 SOURCE: US Census Bureau/Rich Clabaugh–STAFF
From the perspective of their pocketbook, Americans had a good solid year last year.
The standard of living rose and the middle class grew while the number of wealthy actually shrank somewhat compared to 2006. At the same time, the official poverty rate was basically unchanged. And the number of Americans without health coverage fell for the first time during the Bush administration.
Those are some of the conclusions from the US Census Bureau's annual survey, a report that gives scholars a longer view of the nation's economic health.
"It's a good solid report," says Mark Zandi, chief economist at Moody's Economy.com.
From an economic point of view, this is the last official broad look at Americans' pocketbooks before the November election. As such, many Republicans will be cheered by the Census Bureau's snapshot. However, there are also some disturbing trends that will give Democrats, meeting in Denver this week, some fodder to criticize eight years of Republican control of the White House.
The Census Bureau found that child-poverty rose, mainly because the income of households headed by women fell. And overall incomes, while they grew 1.3 percent from 2006, were only on par with the high water mark set in 1999, once adjusted for inflation.
---