On Capitol Hill, a focus on the middle class
Democrats tackle issues from college tuition to healthcare.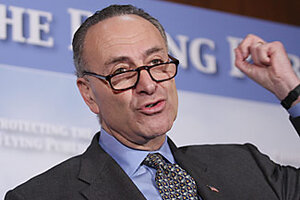 lauren victoria burke/ap
In a significant shift, Democrats are targeting new government programs to include a higher range of incomes – and ease leading middle-class fears: losing a home, losing health coverage, losing a job, and losing educational opportunity.
If successful, this bid to win back middle-class voters could secure a majority in the November elections to last at least a generation, say leading Democratic strategists.
In response, the GOP is rallying around the campaign theme that what Democrats give in new government programs for the middle class they will more than take back in tax increases, set to kick in when the Bush tax cuts expire in 2010.
"Underneath us tectonic political plates are shifting: Democrats are trying to join a big government agenda to the upper-middle class," says Michael Franc of the Heritage Foundation, a conservative think tank in Washington. "If Democrats win this cohort of voters and keep them with them, they can hold the majority for a long time."
Most Americans say they haven't moved ahead in the past five years – or have fallen behind. It's the most negative assessment of personal progress in nearly a half century of polling, according to a new survey by Pew Research Center and the Gallup Organization, "Inside the Middle Class: Bad Times Hit the Good Life."
---