Treasury chief Paulson on verge of historic new powers
The administration's bailout plan would make him temporary overseer of the US financial system.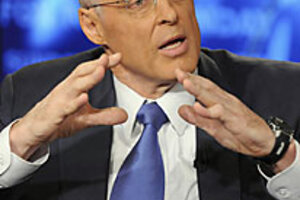 Freddie Lee/Fox news Sunday/AP
In recent weeks Henry Paulson Jr. has become one of the most famous and, perhaps, consequential US Treasury secretaries since Alexander Hamilton assumed the office on Sept. 11, 1789.
Secretary Paulson is not the sole architect of the Bush administration's bailout strategy for the US economy, of course. By all accounts he is part of a troika of top policymakers with Federal Reserve Chairman Ben Bernanke and New York Fed Chief Timothy Geithner.
But as the public face and dealmaker of the plan, Paulson is the one most in the spotlight. Moreover, bailout legislation submitted to Congress by the White House over the weekend would transform Paulson's office into that of temporary overseer of America's entire financial system.
This may not be the role that former Goldman Sachs head Paulson envisioned when he signed on as President Bush's third Treasury chief.
---