Consumers close their wallets
Retail sales plunge a record 2.8 percent in October, suggesting a dismal outlook for holiday spending.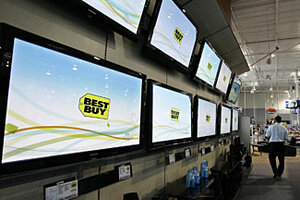 Paul Sakuma/AP/File
The consumer is in no mood to spend.
With only a few weeks to go before the holiday season officially kicks off, retailers are saying this is the worst consumer environment since World War II. Big box retailers are fighting for survival, department stores are preparing massive promotions, and some stores are asking manufacturers to take back their products even before Thanksgiving.
An unenthusiastic consumer has wide ramifications for the US economy because 70 percent of the nation's production of goods and services is oriented toward consumption. Economists are lowering their estimates for economic growth for this year, expecting a sharp contraction of at least 3 percent in the fourth quarter. By early December, some observers think the Federal Reserve will be forced to lower interest rates to below 1 percent for the first time since the Eisenhower administration.
"Horrific is the best word to describe what's going on out there," says Fred Dickson, chief investment strategist at D.A. Davidson & Co. in Lake Oswego, Ore.
Who can blame consumers for putting on their slippers and watching football games? The volatile stock market seems to have a black cloud over it. Home prices have yet to bottom out. Pink slips are proliferating. And, the credit card companies want payment even while the ink dries on your statement.
---