How deep a recession?
The housing-bubble collapse makes recovery hard to predict.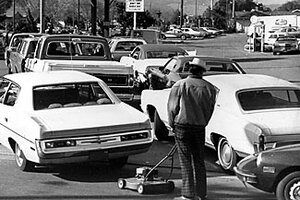 AP
A surge in layoffs, a sharp pullback in consumer spending, and a credit crisis that drags on despite a massive government rescue have prompted some forecasters to predict the worst economic downturn since World War II.
There's even a flood of commentary harking back to the Great Depression – thankfully not as a forecast but as a cautionary tale for today's policymakers.
But if the US economy doesn't repeat the 1930s, could it revisit conditions last seen in the 1970s or early 1980s? Could it be worse?
The economy's trajectory now, compared with some of those deep recessions, leaves the door open to worse or better outcomes.
The high degree of uncertainty this time stems from the central role played by the fallout from a huge housing-price bubble, which is now buffeting banks and consumers alike. That makes both the depth of the recession and the timing of a recovery hard to predict.
This week, as the Dow Jones Industrial Average closed below 8000 for the first time in nearly six years, the Federal Reserve downgraded its outlook for the economy next year, predicting the unemployment rate to rise above 7 percent. Just three months ago, the central bank's forecast had said joblessness would stay below 6 percent for much of next year.
---