Automakers' recovery plan: Get small.
Their CEOs visit Washington, trying a second time to win lawmaker approval for an auto industry bailout.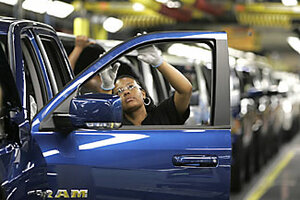 Carlos Osorio/AP/File
The US auto industry – a pillar of America's industrial might for 100 years – appears headed toward the most wrenching change it has ever experienced.
That may be the underlying message of the business plans submitted by General Motors, Ford, and Chrysler to Congress this week as part of Detroit's desperate effort to win a government bailout.
As shown by figures contained in the plans, if Washington doesn't provide aid, GM and Chrysler are almost certain to go bankrupt. If lawmakers do approve a rescue, these venerable firms promise they will slash operations like never before as they struggle to return to profitability.
Whatever US political leaders decide, the very phrase "Big Three" could soon be obsolete, as Detroit shrinks and perhaps consolidates.
"They're talking about getting smaller, but they really have no choice but to do that," says Clifford Winston, a Brookings Institution economist who has researched the US auto industry's market share.
Auto companies' CEOs are making the rounds in Washington this week as they attempt a second time to get lawmakers to approve an auto industry bailout.
Their first attempt last month was widely panned. Lawmakers said the executives appeared less than contrite about past missteps. They complained that the heads of GM, Ford, and Chrysler all flew to D.C. on separate private jets.
This time, the supplicants from Detroit have ditched the jets for hybrid vehicles and driven to the nation's capital. They've replaced their vague pleas for help with lengthy plans about how they'd use federal money.
---