Uncertain impact of US push to cut mortgage rates
While Treasury mulls help to the best borrowers, Bernanke urges aid to those facing foreclosure.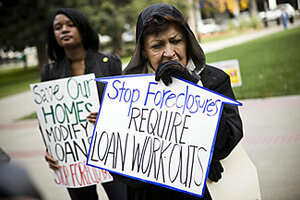 Max Whittaker/Reuters
Another week, another proposal to shore up plummeting US home values. This time, the US Treasury Department is considering a plan to dramatically push down mortgage rates, which it hopes will stimulate demand for new homes.
But the still embryonic plan is focused on the most creditworthy home buyers and offers little direct assistance to people struggling with debt and foreclosures on existing homes. Coming a month before President-elect Obama's inauguration and amid criticism by Democrats in Congress that emergency steps taken so far have neglected the Americans who need help most, it's likely to change in the new year.
As it stands now, according to bankers and analysts, the plan revolves around a massive new issue of government debt that would be used to buy mortgage-backed securities from Fannie Mae and Freddie Mac, the troubled mortgage-finance companies the government took control of in a September bailout worth up to $200 billion. The two firms would make this new cash available to home lenders – but on the condition they issue mortgages at 4.5 percent, down from a current average of about 5.5 percent.
---