Big Three's future still in balance
Plans for lengthy plant shutdowns hint at a turning point in automaker history.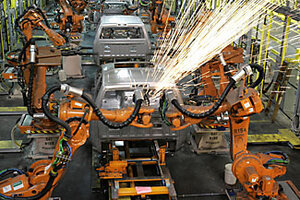 Carlos Osorio/AP/File
The Detroit-based Big Three automakers – a foundation of American industrial might for a century – are going to be altered under any US government bailout. The question now may be only how profound those changes will be.
It's possible that the Bush administration still may offer a simple bridge loan to the desperate industry, postponing tough decisions until President-elect Obama takes office. But Bush officials ultimately could also decide on a rescue plan that puts the most troubled firms, General Motors and Chrysler, through something resembling a managed bankruptcy, according to administration officials.
"There's an orderly way to do bankruptcies that provides for more of a soft landing. I think that's what we would be talking about," said White House press secretary Dana Perino on Thursday.
Any federal offer of aid would come attached to more Washington oversight, via an "auto czar" or some other mechanism. That means Woodward Avenue, metro Detroit's main drag, in essence would then run through D.C.
Under the more involved plans under discussion, unions would have to make concessions, as would other stakeholders in the industry, such as bondholders. Plans would call for the number of dealerships to be trimmed.
Some suppliers are likely to go bankrupt, whether or not the United States provides the industry with aid.
---