Economic bright spot: energy prices
Gasoline and some heating costs are expected to be relatively low in 2009.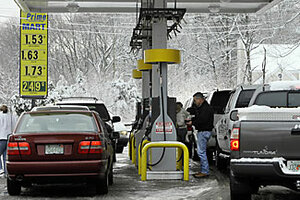 Elise Amendola/AP
The best economic news that consumers receive next year could be the price they pay for energy.
Although it's almost 2009, prices at the pump – close to $1.65 a gallon – are below what Americans paid in 2004. That year, the top three bestselling vehicles were pickup trucks, and gasoline prices averaged $1.85 a gallon for regular.
Also this winter, residents of the Northeast are expected to see their heating costs shrink by almost 25 percent when compared with last winter.
"It's a bit of a gift, like a giant tax cut," says Sarah Emerson, managing director of Energy Security Analysis Inc. in Wakefield, Mass. "This is one of the best things to happen to the economy over the next six months."
In 2009, the price of gasoline will average $2.03 a gallon, the Energy Department forecasts. While this number is higher than current prices, it's much lower than 2008, when gasoline prices averaged closer to $3.27 a gallon and crested at over $4 a gallon in July.
"We think oil prices will start to recover slowly next year," says Tancred Lidderdale, a short-term energy forecaster at the Energy Information Administration (EIA) in Wash­ington. "But it is hugely uncertain, and a lot depends on the economy."
Crude oil prices will average about $51 per barrel next year, Mr. Lidderdale forecasts. His projection mirrors the price on the futures market, where oil for delivery in December 2009 is priced at $52 a barrel.
---
Follow Stories Like This
Get the Monitor stories you care about delivered to your inbox.