Home buyers stirring in some markets
Hardest-hit housing markets, such as in California, are seeing strong signs of activity.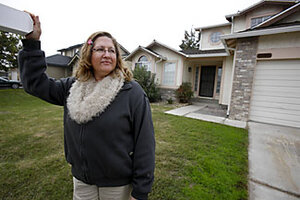 Tony Avelar/The Christian Science Monitor
The housing market in California's Central Valley – and in other sharply deflated markets in parts of California, Nevada, Florida, and Arizona – is showing signs of new life.
Prices have fallen so far that people of average salaries can afford to own homes again. Buyers are out in force.
Here in Lathrop, Calif., and in nearby Stockton – the nation's foreclosure capital – home prices could be bottoming out. However, real estate agents remain wary given the number of vacant homes and expectations of more to be listed early next year.
"The buyers are returning. And in such a strong way that, now, we are hearing in some cases there is multiple bidding, which hints that maybe pricing is reaching a bottom point," says Lawrence Yun, chief economist with the National Association of Realtors (NAR). "But inventory remains high. There is a lot of conflicting information."
Stockton had to give back much of the housing bubble's price gains before buyers returned. In regions where prices haven't fallen so dramatically, sales remain slow, says Mr. Yun. Those areas may face the heavier downward pressure on prices going forward.
Whether real estate prices plunge further may also depend on how forcefully the next wave of foreclosures hits.
---