Credit crunch shows little sign of easing
Most banks have tightened lending, choking off needed credit for some US businesses.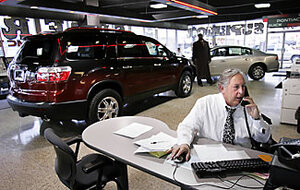 Robin Buckson/The Detroit News
In the aftermath of a historic lending boom, a key challenge for America in 2009 is to find the right footing on debt – allowing the credit bubble to deflate while not depriving the economy of needed fuel.
Seeking the right balance is a difficult test for policymakers, since the economy has downshifted sharply since September.
To some extent, a tightening of credit simply reflects the reality of cooler economic times. But economists generally say the credit markets also face an abnormal squeeze now – one that justifies many of the extraordinary actions that the Federal Reserve and Treasury have taken in recent months. The latest example came last week, as the Treasury Department decided to rescue GMAC to prevent a freeze-up in the auto-loan market.
"We were obviously at one extreme a couple of years ago. Credit was too easy," says Nariman Behravesh, chief economist at IHS Global Insight in Lexington, Mass. Now "the pendulum swung way over in the other direction."
He says the credit crunch is serious, with many consumers and businesses unable to get financing that would usually be available.
"Borrowers are still having a hard time," Mr. Behravesh says. Without a healthier flow of credit, it will be hard for the economy to stage a solid recovery from recession.
At the same time, it's not just the availability of credit that has shrunk. It's also demand for new loans.
Some forecasters say that what's occurring is an unavoidable "deleveraging," or reduction of debt, by both households and corporations.
---