Baby panda Tai Shan leaves American home for his native land
Born in the US, panda Tai Shan won the hearts of visitors to Washington's National Zoo. But under an agreement with China, he'll now be part of a panda breeding program there.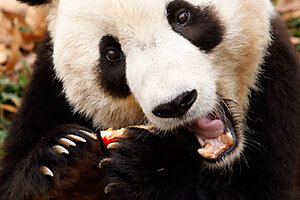 Jason Reed/Reuters
In virtually all cases, babies born on US soil are American citizens, even when their parents are foreign. One exception is that of panda bear cubs born in US zoos to parents lent by the Chinese government.
Those cubs may have seen their first light of day from American soil; they may have grown up consuming American bamboo. But they remain Chinese, under the terms of the agreement worked out between American zoos and China, the species' native land.
The citizens of Washington, D.C., were reminded of that bittersweet exception Friday when the Washington zoo announced that Tai Shan, the panda who captured the capital city's heart when he was born at the zoo in 2005, will leave "home" for China early next year.
Tai Shan, or "Tai" as the male bear has come to be known, had this sometimes divisive and cutthroat town from the moment he emerged from his mother the size of a stick of butter.
The love affair continued as he grew and frolicked in the zoo's panda compound, drawing millions of devoted fans in his four short years.
But Tai Shan is an adolescent now, and it is apparently time for him to put away childish things and face his responsibilities as a healthy male in a dwindling species. He is needed back in China.
"While we're very, very sad Tai Shan is leaving, we take enormous pride that he is a normal, healthy cub," said Steve Monfort, acting director at the National Zoo, in announcing Tai's imminent departure.
---